Bitdefender 2020 Brings New Features to Upgrade Security and Online Privacy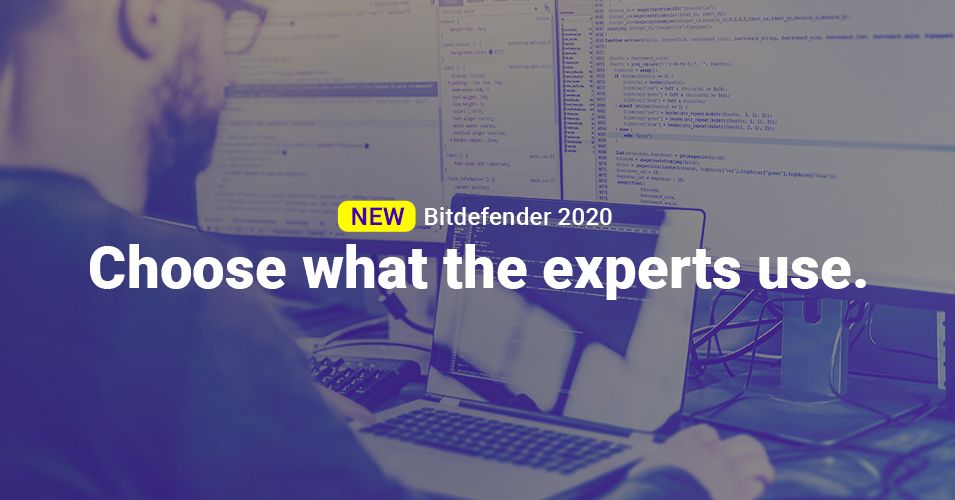 The Bitdefender 2020 series of products is designed to offer both industry-leading protection against even the most sophisticated threats, as well as ensure privacy from hackers. Besides under-the-hood technology upgrades that escalate the fight against ransomware, illicit crypto-mining malware and other online threats, Bitdefender 2020 introduces new privacy features that protect you from websites that track your online activity and even applications that try to access your device's camera and microphone.
Bitdefender 2020, which offers industry-leading protection for Windows, Mac OSX, Android and iOS, now comes with multiple upgrades. Bitdefender's malware detection engines stop the newest variants of growing threats, while it blocks any dishonest page targeting personal information such as credit card details or social security numbers, and keeps your family and children safe from cyberbullying and online predators.
Here's what you need to know about some of the new features packed into Bitdefender 2020 and the upgrades we have made under the hood to existing technologies.
Web Protection for iOS
iOS users may believe they're immune to threats, but fraud, phishing and other online dangers can still make a dent in the wallets or trick users into giving away private and sensitive information, such as name, address and even credit card details. Bitdefender Mobile Security for iOS can now ascertain whether a link (URL) that you visit is legitimate or fraudulent, regardless of the browser or application you use.
Whether it's an email link, a URL that you received and clicked via a popular messaging app, or something malicious that you inadvertently clicked while browsing, Bitdefender's Web Protection feature for iOS now keeps you safe and clear from online threats. It can filter all traffic, not only intentional user browsing. This means that, whether you're at home, traveling or connected to a Wi-Fi network, Bitdefender's Web Protection blocks phishing scams and any dishonest page, no matter the web browser.

Bitdefender Anti-tracker
Bitdefender 2020 also sports the recently added Anti-tracker feature that blocks trackers collecting browsing data on your online behavior, and allows you to view and manage this information for each visited website. Bitdefender Anti-tracker, which comes as a free browser extension for popular browsers, such as Internet Explorer, Chrome and Firefox for both Windows and Mac OSX, gives users control over who can track their online activity.
Covering advertising, analytics, social media, or customer interactions, Bitdefender Anti-tracker will keep your browser private, enhance the overall browsing experience by loading webpages faster, and give you in-depth knowledge about what websites track, while allowing you to manage trackers that collect data on every single webpage you visit. Whether you use Windows or Mac OSX, Bitdefender Anti-tracker places control over your data back in your hands.

Bitdefender Microphone Monitor
The new Microphone Monitor reinforces Bitdefender's existing web cam protection, notifying users when unauthorized apps or programs access their microphone. It comes as an extra layer of privacy protection, giving users control over their own devices by enabling complete visibility into which apps access your device's microphone and when. Upon access, untrusted apps are detected and users are notified, ensuring that privacy is protected and never at risk.
Bitdefender Microphone Monitor is all about giving you control over your own and your family's privacy, while making informed decisions on whether installed apps legitimately access and use privacy-intrusive sensors.

Enhanced Features and Technologies
The new Bitdefender 2020 features a wide range of feature enhancements and technologies, from improvements in interactions with Bitdefender features and technologies, all the way to technology upgrades designed to prevent, detect and block advanced and sophisticated threats from compromising your personal and private data for Windows, Mac OSX, Android and iOS. As ransomware has remained a top security threat, our approach was to strengthen our multi-layered defense against ransomware, across all devices.
Prevention technologies, such as Network Threat Prevention, Web Attack Prevention and Real-Time Protection, have been fine-tuned to strike the best balance between protection and performance, enabling users to stay away from threats.
Continuous monitoring technologies, such as Advanced Threat Defense, have been upgraded to identify ransomware-specific behavior and block even the newest ransomware attacks, not only minimizing the risk of infection and data loss, but also identifying malicious behavior exhibited by other advanced threats.
Remediation technologies ranging from Time Machine Protection for Mac OSX to Ransomware Remediation for Windows have been improved to remediate any potential ransomware damages. For Mac OS, it prevents unauthorized changes to Time Machine backups, making sure that even if your Mac gets infected with ransomware, you can recover all encrypted data by reverting to a safe system image, without paying the ransom demand. For Windows systems, the Ransomware Remediation feature identifies when new ransomware tries to encrypt files and automatically creates a backup of targeted files that will be restored after the ransomware has been blocked.
The new Bitdefender 2020 comes with all these award-winning technologies and much more, so feel free to download and try it out now!
tags
---
Author
---
---
Right now
Top posts
FOLLOW US ON
SOCIAL MEDIA
---