August may not be the best time to go job hunting, but that doesn't discourage scammers from targeting job seekers with phony executive positions. This week, Bitdefender Antispam Labs has picked up a rather large spam campaign tempting recipients with high-end positions in local offices.
According to Bitdefender Antispam telemetry, the ongoing campaign has spread in tens of thousands of inboxes in the US, UK, South Africa, Germany and Australia. The unsolicited correspondence originates primarily from IP addresses in Japan, China and Belarus.
Unsolicited job offers are a disaster waiting to happen
The innocuous email beckons recipients with an attractive position – COO – at a new branch in your region and asks you to forward your resume.
The spammers don't give readers additional information, simply stating that "you have been recommended for an executive position" within an unspecified organization.
Subject lines run deep, with at least a dozen different email subjects detected by our antispam researchers, including: 'Application Offer', 'Application Update', 'Approval Notice Of Employment', 'Job Available' and ' Job Opening Approval Notice', among others.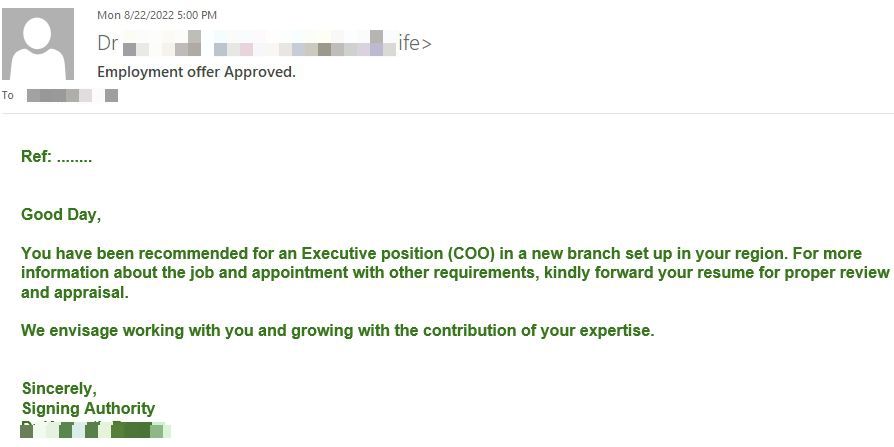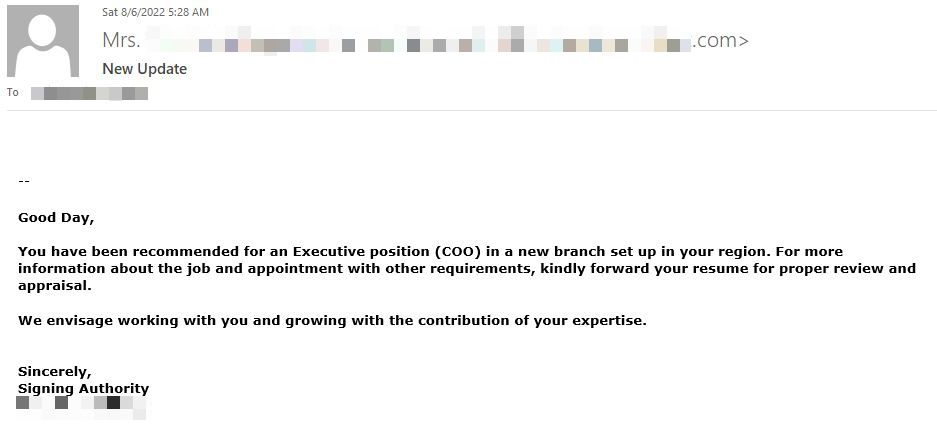 This unsolicited job offer means you have never interviewed or applied for the job. Although this initial contact does not mention desirable conditions such as short hours, remote work, and a fat paycheck, it doesn't mean that the scammers won't mention them later if you respond.
For the time being, the scammers are relying on users' curiosity or preying on those who are in dire need of work. However, the impact could be hazardous for individuals who have applied for jobs online and unknowingly send a reply.
Best-case scenario, you lose money buying gift cards to pay for any software or tech you may need to fulfill the job specification. Worst-case scenario, you become a victim of identity theft or become a money mule in the process.
The above sample of email-based job scams is just one of the thousands of ways scammers target job seekers online. So whether you've applied for a job or not, remain vigilant to protect your personal and financial well-being.
Safety tips for job seekers
As many job applications and interviews are moving online, it has become harder for potential employees to distinguish between legitimate and fake work offers. To avoid falling victim to identity theft or fraud, follow these easy tips on spotting email-based job scams:
· Never interact with messages including emails, texts or social media correspondence if you didn't apply for the job. This is the most obvious sign that the position is fake. If you're considering a career change and have applied to multiple job ads, keep records of them so you don't fall prey to this type of spam.
You're asked to pay for software or devices and promised to get reimbursed. If you've received an irresistible job offer but are asked to pay for visas, transfers or any tech, it's 100% a scam – legitimate companies will not ask for advance payments to work there.
The job description is very vague and involves you working from home for just a couple of hours per day and a large paycheck
The job correspondence was sent from Google or Hotmail accounts and not a company-registered email address.
You are asked to transfer money from your account to another
You get the job without an official interview process and are asked to provide sensitive personally identifiable information (PII) such as a Social Security number and credit card information, fill out a credit report or open a new bank account
Scammers can easily gather information from online job seekers when disguised as potential employers to conduct identity theft crimes. Bitdefender Ultimate Security combines advanced malware detection technology, real-time privacy alerts and identity theft protection features.
The identity theft protection module monitors your SSN, email address and phone numbers for any misuse and exposure on the dark web, alerts you to any changes in your address and court records in your name and ensures expert assistance in recovering your identity alongside the reimbursement of stolen funds courtesy of insurance of up to $2 million.
Read more about how you can protect your digital identity here.